News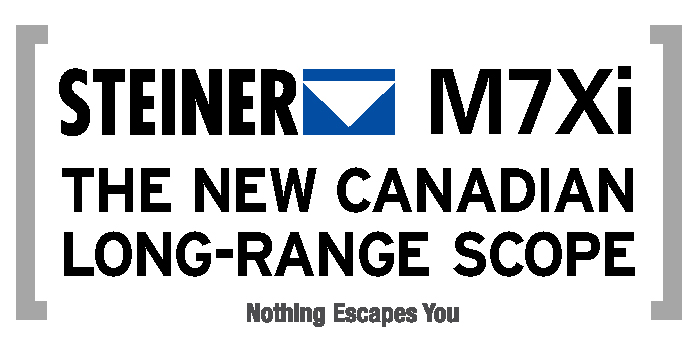 Steiner M7Xi – The New Canadian Department of National Defence Army Long Range Riflescope!

THE CANADIAN DEPARTMENT OF NATIONAL DEFENCE UPGRADES AND EXPANDS ITS MILITARY EQUIPMENT WITH STEINER'S M7XI LONG-RANGE RIFLESCOPES
The Steiner M7Xi is the latest generation of military scopes built by one of the top optics manufacturers in the world. Designed for the sniper, the M7Xi gives the operator more flexibility and a higher resolution for all distances, pairing outstanding optical quality with a large view to permit exceptional situational awareness.
Oshawa, Ontario – June 2023: Stoeger Canada with Steiner, Germany, have been awarded the Department of National Defence (DND) contract for the Steiner Optik M7Xi 4-28×56 Tremor III Optical Scopes to be delivered this year. The contract builds on the strength of the Sako Multi-Caliber Sniper Rifle (MCSW) program previously awarded in 2022. Stoeger Canada is honoured to have been selected for this contract and to further expand the abilities of Canada's military snipers with the highest quality products in the field.
"We are delighted to have been awarded the Canadian Department of National Defence's tender for Steiner M7Xi riflescopes in 2023. It is a fantastic achievement to be not simply awarded but to provide quality gear to our Canadian defence forces. We look forward to a long-term relationship for years to come between DND, Stoeger Canada and Steiner." says Spyros Chrysochou, General Manager, Stoeger Canada (1990) Ltd.
Steiner's ultimate long-range riflescope M7Xi 4-28×56 with a 7x zoom and an impressive field of view (1.42-9 m at 100 m) is used today by Special Forces around the globe. The 7x zoom gives the operator more flexibility and a higher resolution for all distances, while the large field of view and the outstanding optical quality create a perfect overview of the surroundings at all times. The short overall length of the scope creates more rail space for clip-on devices (e.g., thermal imaging or night vision devices) for superior operational capabilities in any combat situation. Low-profile turrets provide outstanding situational awareness and additional mounting options for add-ons and accessories. Additionally, it can withstand up to 900Gs.
ABOUT STEINER: For 70 years, Steiner has made trusted optics for life's defining moments. The successful pursuit and capture of these moments demand fast and precise detection, location, and identification of a distant objective. Whether the objective is wildlife, a marine bearing, a law enforcement suspect or a military combatant, Steiner products enhance an individual's most important sense and vision so that on land or sea –– Nothing Escapes You. For more information, visit the company website at www.steiner-optics.com or www.facebook.com/SteinerOptics.
ABOUT STOEGER CANADA: Founded in 1977, Stoeger Canada (1990) Ltd serves as the exclusive Canadian importer and distributor for Beretta, Benelli, Sako, Tikka, Franchi, Stoeger, Chapuis Armes, Manurhin, Steiner, Burris, Ase Utra Oy's and Centanex. We carry branded Commercial, Law Enforcement, and Military products.
In the Defense and Law Enforcement Market, Stoeger Canada offers dedicated solutions to meet the stringent requirements of today's Canadian Armed and Police Forces. Stoeger Canada is owned and operated as a subsidiary of Beretta Holdings.
Check out the Steiner M7Xi in our store!