News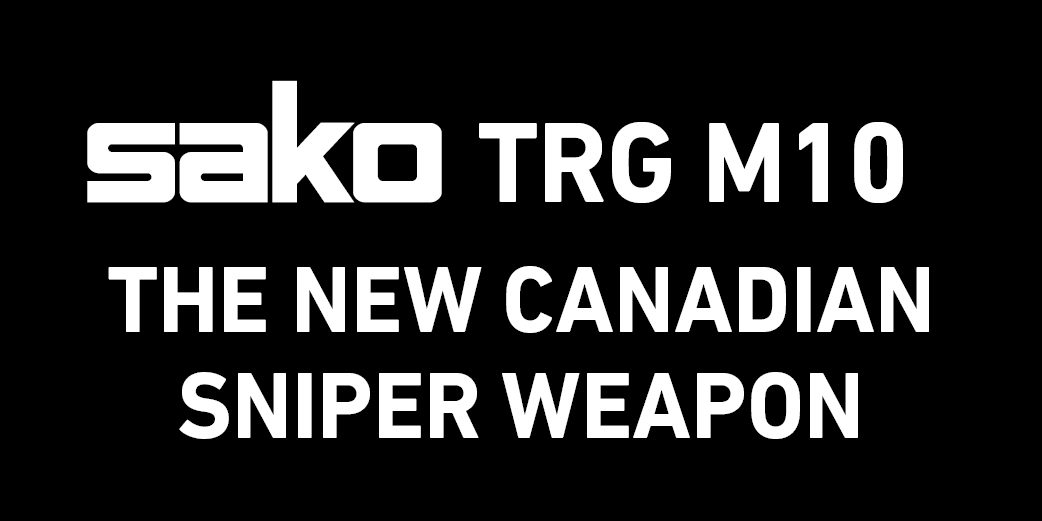 SAKO TRG M10 WINS THE CANADIAN MULTI-CALIBRE SNIPER WEAPON TENDER

Sako, the leading Finnish manufacturer of world-renowned rifles, wins the contract for the multi-calibre sniper weapon (MCSW) System. The Canadian Department of National Defence's tender opened bidding in 2021 for the Canadian Army.
Oshawa, Ontario – 1 May 2022:  Stoeger Canada with SAKO, Finland will begin deliveries of the Multi Calibre Sniper Weapon (MCSW) that will allow the use of various calibres to meet the operational and training needs of the Canadian Army. The bolt-action sniper rifle system allows the user to swap between calibres while maintaining the same fit, form and functions provided by the common frame and accessories.
"We are extremely pleased to have been selected by the Canadian Department of National Defence to supply with Stoeger Canada the next generation of sniper rifles to the Canadian Army. This significant project emphasizes our commitment to supporting Canadian defence and law enforcement organizations." says Raimo Karjalainen, General Manager, Sako Ltd.
The Sako TRG M10 bolt-action sniper rifle is a multiple caliber, manually operated, and magazine-fed system. Its fully adjustable stock and interchangeable barrel/bolt system, among other features, make it a multi-functional system in a single weapon, suitable for any operational situation. The rifle includes ambidextrous controls and tactile indicators for different calibres. Furthermore, its action frame and barrels are cold hammer-forged from special alloyed steel for extra rigidity. The rifle underwent extensive and arduous testing by the DND during trial phases, passing all tests and showcasing the performance that has earned SAKO its worldwide reputation.
"Sako's commitment to great products that meet the needs of defence forces worldwide continues in Canada as we deliver the SAKO TRG M10 as the MCSW, satisfying long and medium range sniper needs with the multi-calibre capability. The contract award is especially timely as SAKO celebrated its 100th anniversary. It is a proud moment for both Stoeger Canada and SAKO, Finland on this important project." says Spyros Chrysochou, General Manager, Stoeger Canada (1990) Ltd.
______________
ABOUT SAKO: Sako is the world's most prestigious rifle and cartridge brand. Our acclaimed reputation, high-quality products and credibility are rooted in our employees' unique skills and pride in what they do.
For decades Sako has developed world-class military, target, and hunting rifles, as well as cartridges. By integrating its knowledge of rifle and cartridge production, Sako can offer a shooter the unique advantages of uncompromising accuracy and reliability. Our main fields of operation include the design, production, marketing, and global sales of military, hunting and sporting rifles as well as cartridges. In 2000, Sako joined Beretta Group, a company with unique firearms traditions reaching all the way back to 1526. Sako is part of the Beretta Defense Technologies (BDT) group of companies serving the needs of military and law enforcement globally.
ABOUT STOEGER CANADA: Founded in 1977, Stoeger Canada (1990) Ltd serves as the exclusive Canadian importer and distributor for Beretta, Benelli, Sako, Tikka, Franchi, Stoeger, Chapuis Armes, Manurhin, Steiner, Burris, Ase Utra Oy's and Centanex. They carry branded Commercial, Law Enforcement, and Military products.
In the Defense and Law Enforcement market, Stoeger Canada offers dedicated solutions that meet the stringent requirements of today's Canadian Armed and Police Forces. Stoeger Canada is owned and operated as a subsidiary of Beretta Holdings.