Promotions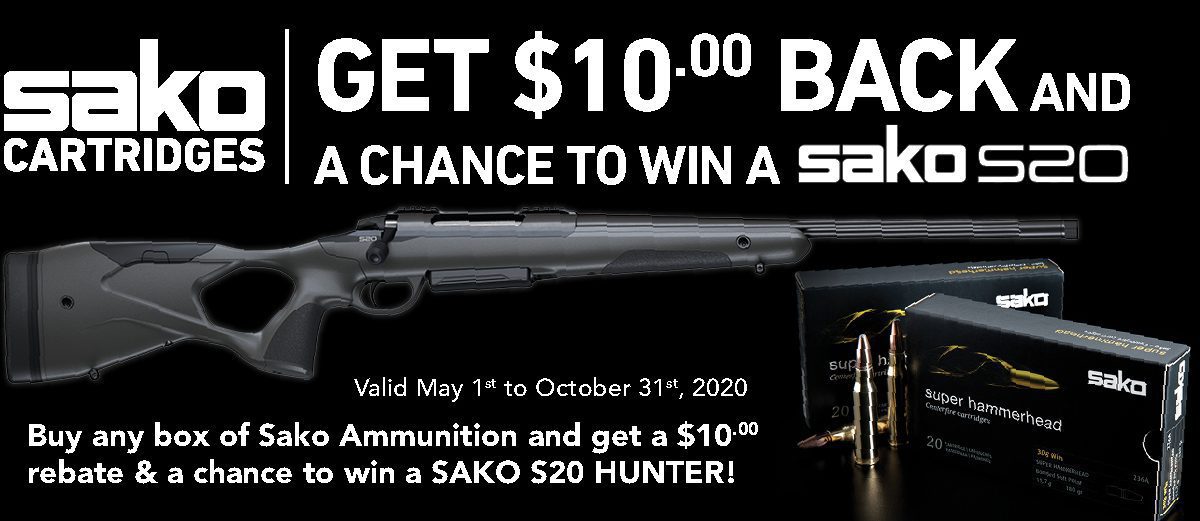 Sako Ammunition – Get $10 back on EVERY Box Plus a chance to win a Sako S20 Rifle!
Click HERE to download the Coupon.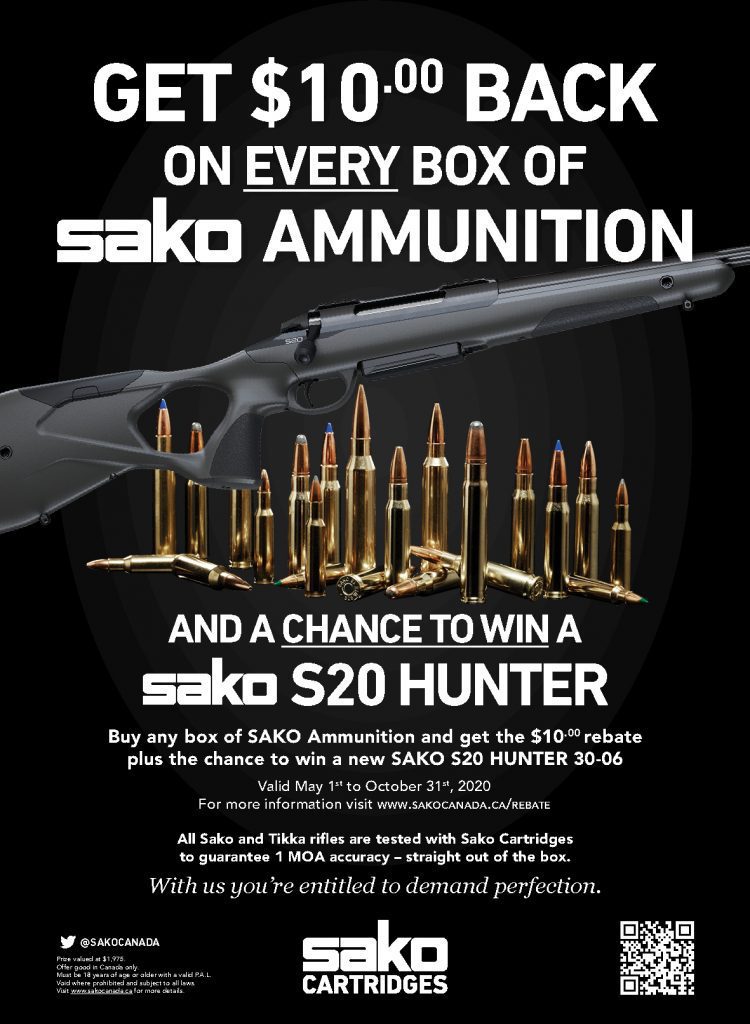 Mail-in Submissions:
*Review terms for online order proof of purchase requirements.
1. Fully completed rebate form.
2. Original UPC barcode(s) from product packaging.
3. Original store identified cash register receipt.
*Make photocopies of your entire submission for your records.
4. Required documents must arrive before November 20th, 2020:
PO BOX 250-SC01 Pickering, ON L1V 2R4
Online Submissions:
1. Fully complete the rebate form after accepting terms & conditions below.
2. Scan or take a picture of the UPC barcode and the receipt so you can upload to the rebate system.
3. Submit your application. Confirmation email will be sent.
4. Claims must be uploaded by November 20th, 2020.
TERMS & CONDITIONS • No photocopies of UPC barcode(s) or duplicated receipts will be accepted. Offer good in Canada only. Void where prohibited and subject to all laws. • Online Orders: email confirmations do not constitute proof of payment. To qualify for the rebate, order confirmation must be combined with the packing slip included in the shipped package to show amount paid and delivery confirmation. • Submissions lost or misdirected are not the responsibility of Stoeger Canada or its dealers. Please keep a copy of all redemption materials for your records and allow 4-6 weeks for processing. • Illegible or incomplete redemption coupons will be considered invalid and not accepted. Stoeger Canada and its agents reserve the right to review and approve all submissions and modify or withdraw this offer at any time for any reason. This offer supersedes any other redemption offer and cannot be combined with any other offer. • Valid while supplies last at dealers. Pre-orders, rain checks and back-ordered products will not be honoured. • Valid for New Purchases only from authorized Canadian Sako dealers. • Consumer rebate only. Clubs, Groups, Organizations and Dealer entries are VOID and will not be honoured, acknowledge or returned. • Forms received after November 20th, 2020 will not be accepted.
DRAW  •  Held on November 25th, 2020. Prize valued at $1,975. Offer good in Canada only. Must be 18 year of age or older with a valid PAL. Terms and conditions of rebate must be met. The prize must be accepted as awarded and is not transferable or convertible to cash. The winner must confirm within five business days of receipt. The odds of an entry being selected depend on the number and quality of eligible entries received by the contest closing date.