Promotions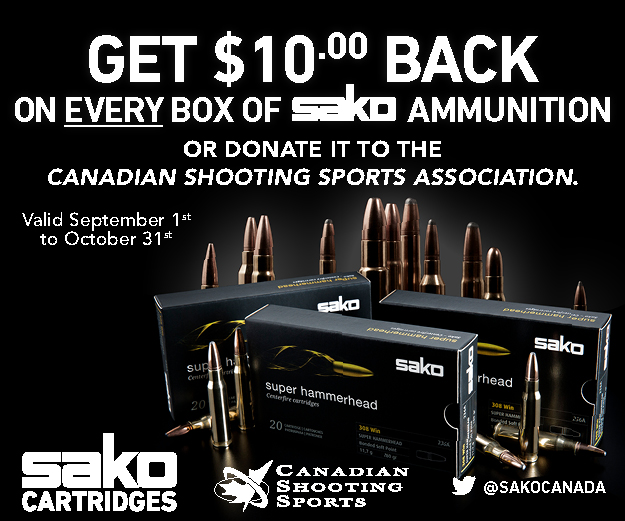 Sako Ammunition – Get $10 back on EVERY Box!
Click HERE to download the Coupon.
Cliquez ICI pour télécharger le coupon.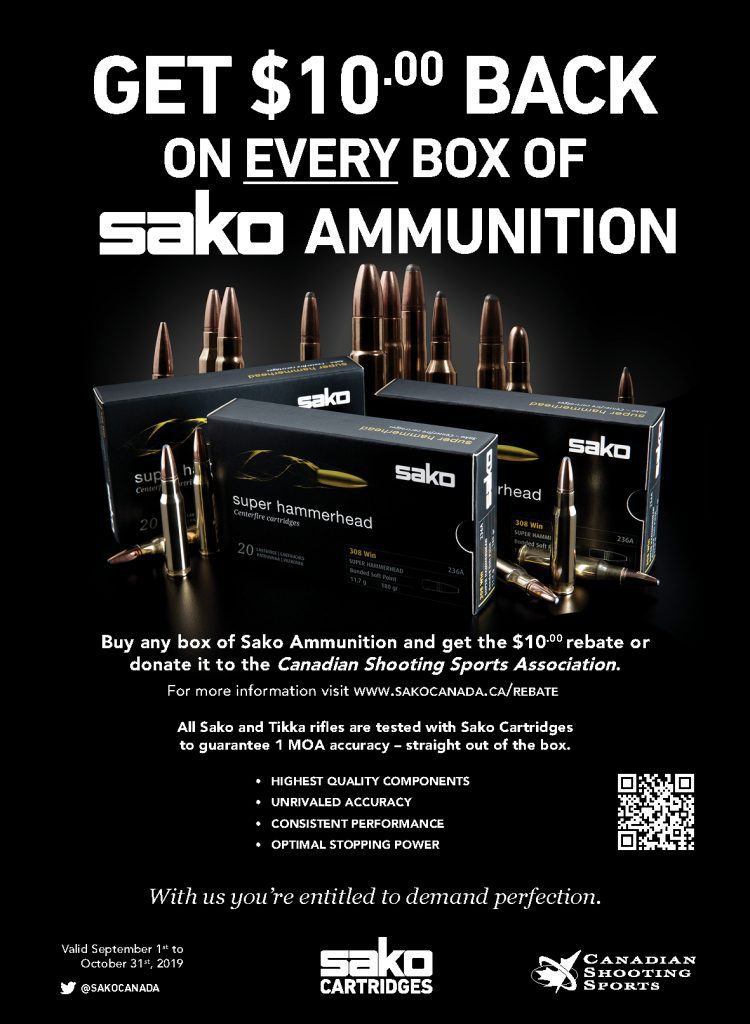 Mail-in Submissions:
*Review terms for online order proof of purchase requirements.
1. Fully completed rebate form.
2. Original UPC barcode(s) from product packaging.
3. Original store identified cash register receipt.
*Make photocopies of your entire submission for your records.
4. Mail the required documents before November 15th, 2019:
PO BOX 250-SC01 Pickering, ON L1V 2R4
Online Submissions:
1. Fully complete the rebate form after accepting terms & conditions below.
2. Scan or take a picture of the UPC barcode and the receipt so you can upload to the rebate system.
3. Submit your application. Confirmation email will be sent.
4. Claims must be uploaded by November 15th, 2019.
TERMS & CONDITIONS • No photocopies of UPC barcode(s) or duplicated receipts will be accepted. Offer good in Canada only. Void where prohibited and subject to all laws. • Online Orders: email confirmations do not constitute proof of payment. To qualify for the rebate, order confirmation must be combined with the packing slip included in the shipped package to show amount paid and delivery confirmation. • Submissions lost or misdirected are not the responsibility of Stoeger Canada or its dealers. Please keep a copy of all redemption materials for your records and allow 4-6 weeks for processing. • Illegible or incomplete redemption coupons will be considered invalid and not accepted. Stoeger Canada and its agents reserve the right to review and approve all submissions and modify or withdraw this offer at any time for any reason. This offer supersedes any other redemption offer and cannot be combined with any other offer. • Valid while supplies last at dealers. Pre-orders, rain checks and back-ordered products will not be honoured. • Valid for New Purchases only from authorized Canadian Sako dealers. • Consumer rebate only. Clubs, Groups, Organizations and Dealer entries are VOID and will not be honoured, acknowledge or returned. • Forms received after November 15th, 2019 will not be accepted.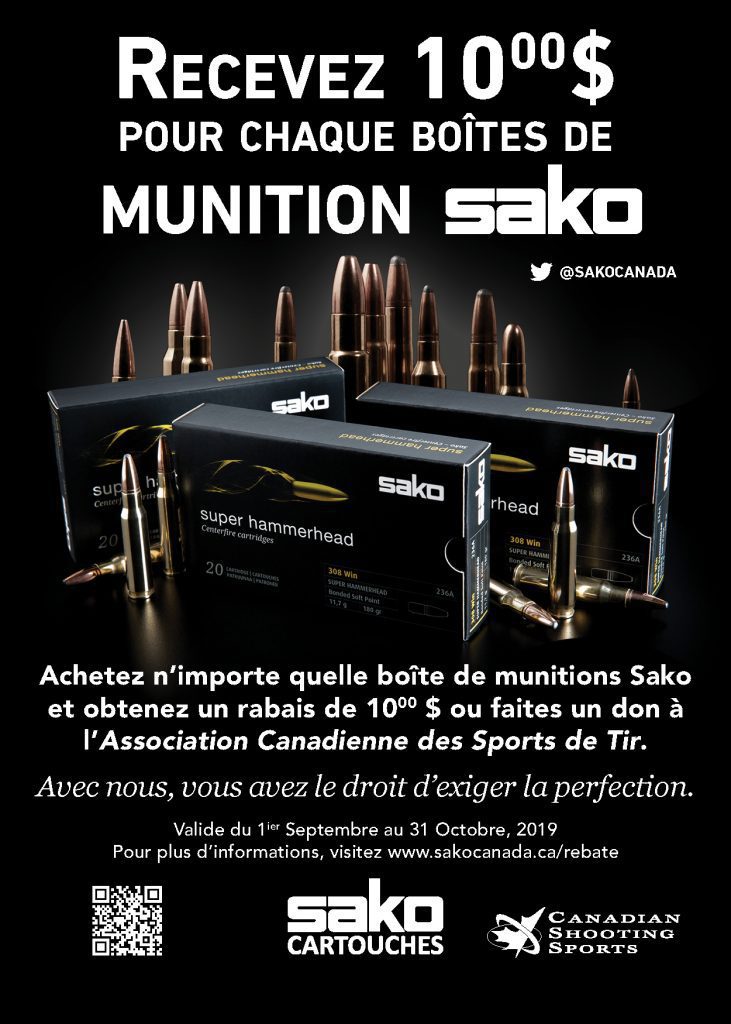 Soumissions postales:
1. Formulaire de remise entièrement rempli.
2. Code-barres UPC original (s) de l'emballage du produit.
3. Le magasin original a identifié le reçu de caisse enregistreuse ou la facture de vente détaillée datée. Examinez les conditions relatives aux exigences relatives à la preuve de commande en ligne.
*Faites des photocopies de l'ensemble de votre soumission pour vos dossiers.
4. Envoyer les documents requis à l'adresse suivante:
PO BOX 250-SC01 Pickering, ON L1V2R4
Demande en ligne:
1. Complétez le formulaire après avoir accepté les termes et conditions ci-dessous.
2. Numérisé ou prendre une photo du code UPC et votre reçu d'achat afin de télécharger au système de remise.
3. Soumettre votre demande. Une confirmation vous sera envoyé par courriel.
4. Les demandes doivent être téléchargés au 15 Novembre 2019.
TERMES ET CONDITIONS • Aucune photocopie du code-barres UPC ou reçu dupliqués ne sera acceptée. Offre Valide au Canada seulement. Nul lorsqu'il est interdit et soumis à toutes les lois. • Commandes en ligne : les confirmations par courriel ne constituent pas une preuve de paiement. Pour être admissible au rabais, la confirmation de commande doit être combinée avec le bordereau d'emballage inclus dans le colis expédié pour indiquer le montant payé et la confirmation de livraison. • Les coupons perdus ou mal dirigés par le bureau de poste ou tout autre service de livraison ne relèvent pas de Stoeger Canada ou de ses détaillants. S'il vous plaît garder une copie de tous les documents de rachat pour vos dossiers et permettre 4-6 semaines pour le traitement. • Les coupons de rachat illisibles ou incomplets seront considérés comme invalides et non acceptés. Stoeger Canada et ses agents se réservent le droit d'examiner et d'approuver toutes les soumissions et de modifier ou de retirer cette offre à tout moment pour quelque raison que ce soit. Cette offre remplace toute autre offre de rachat et ne peut être combinée avec aucune autre offre. • Valide tant que les fournitures sont disponibles chez les détaillants. Les précommandes et les produits en souffrance ne seront pas honorés. • Valable pour les nouveaux achats uniquement auprès de détaillants Sako canadiens autorisés. • Rabais au consommateur seulement. Les clubs, les groupes, les organisations et les détaillants sont nuls et ne seront pas honorés, reconnus ou retournés. • Les formulaires soumis après le 18 novembre 2019 ne seront pas acceptés.