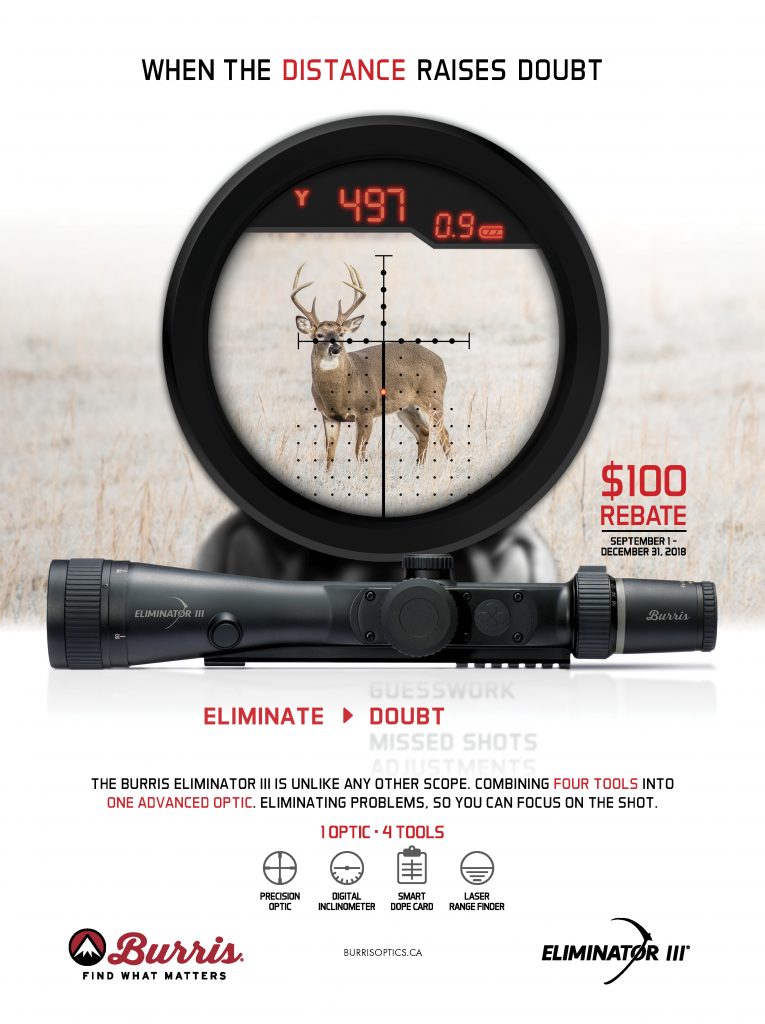 To Receive Your $100 Rebate:
With the purchase of a Burris Eliminator II® LaserScope™ 4 -16x50mm (Item # 200116 or 200119) between September 1 – December 31, 2018, you are eligible to receive a $100 rebate.
Send in a copy of your sales receipt, completed coupon and original UPC barcode (Burris codes always begin with 00381, No photocopies or mechanical reproductions) from box to: $100 Eliminator Rebate, Dept #BS18-5028, PO Box 472, Scottsdale, AZ 85252-0472
Terms & Conditions:
To check the status of your rebate please visit www.rapid-rebates.com or call 1-800-619-4703.
Requests must be postmarked by January 31, 2018.

Void where taxed, restricted or prohibited.

PO boxes will not be paid, except in North Dakota.

Allow six to eight weeks after receipt of your claim for delivery of your rebate check.

Limit one offer per envelope and one offer per name/household/address.

Burris Company reserves the right to confirm identification and request additional proof of purchase to substantiate claim. Fraudulent submissions could result in federal prosecution under US Mail fraud statutes (18 USC Sections 1341 and 1342).

Valid in USA and Canada only.
CLICK HERE FOR MORE INFORMATION